Bee Removal Services in Orange County, CA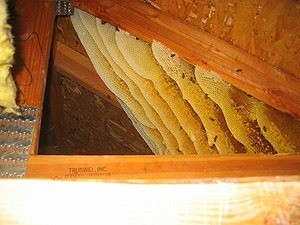 Bee Removal: Let's talk about it. There are several types of bee removal situations that you may find yourself faced with. Often, if this is your first experience with bees on your property it can be quite shocking. Sometimes the bees that you observe will move on entirely, but other times they will stick around indefinitely. No matter what your situation, we are ready to help and will always give you honest answers. Check out our Self-Help Guide and the rest of our site for detailed information about different types of bee problems.
Before bee removal was a profession or industry, David, owner and president of Bee Busters, was helping his fellow Orange County residents with their bee problems. What began in his teens with a bicycle and beekeeping hobby has turned into the most professional well-trained bee removal operation in the county. Many of the cutting edge methods used today were developed over the years as David began applying innovative technologies to a previously unsophisticated field. These pioneering efforts have permanently changed the bee removal industry.
In the bee world there are several terms that we use to differentiate between situations. These major categories are:
Scouts – Bees that investigate possible nesting locations before a swarm arrives.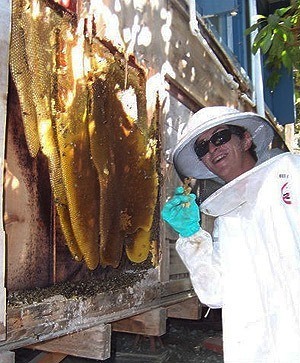 Swarms– Migrating bees that are in transit to a new home. A swarm can contain a few hundred to a few thousand bees. If you see them in the air it will look like a moving cloud of bees. They'll land on a branch and form a basketball-sized solid clump of bees.
Colonies – This occurs when a swarm has chosen a location and sets up shop. They choose hollow cavity spaces where they will be protected from predators and the elements. They build honeycombs, breed more bees, and store food. Colonies of bees can become defensive of their space. Note: The term hive is usually used to describe a beekeeper's box containing a colony.
Exposed Colonies – When a colony is not in a hollow cavity space and it is out in the open we refer to it as an "exposed colony." While it is much less common because urban areas provide so many better options, the bees will build in dense trees and other areas in some circumstances. Exposed colonies commonly occur in trees but they can also be found elsewhere including under the eaves of a home, in junk piles, and under patios and decks.
Foraging Bees – Bees need to go grocery shopping just like we do. Bees forage for nectar, pollen and water. If you have foraging (or nuisance) bees click here.
Many times a situation such as a swarm or scouts will result in no major problem. Swarms on trees or in other open areas will frequently move on within 3 days. Scouts may decide not to choose your property for colonizing. However, swarms found in public areas where children or pedestrians could be affected or tempted to disturb them can cause problems. If you need a swarm removed we will be right out to help! Read more about swarms and scouts here.
If you have noticed bees in a particular location (other than around flowers or water) for several days it usually means they are there to stay. This normally occurs in a hollow void such as a roof, wall, chimney, or other cavity space. When a swarm shows up they will typically move into a void space fairly quickly. This can happen in just a few hours. Many times they go completely unnoticed until a colony has formed. A colony will almost never leave once established. Give us a call and we can help. Read more about colonies here.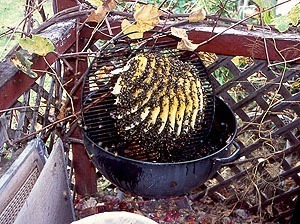 Bee Busters is highly equipped to deal with any bee situation you may have. It is definitely less invasive to remove a problem in the early stages such as scouts or a swarm, but in cases where a colony has formed we have the best qualified technicians to resolve your problem. Once honeycombs have been built, it is best to remove them to prevent future problems. We call this a full removal. Structural removals frequently involve opening part of a structure to remove bees as well as honeycombs. The removal is local to the area where the bees are living and usually requires some patchwork afterwards. Remember, whether to do a structural removal of the honeycombs is always your choice!
It is actually not uncommon to find bee colonies in BBQ's. People dust off their BBQ's after months of inactivity and find an unwelcome surprise!
BEE REMOVAL SERVICE LOCATIONS:
September 28, 2013
2023/09/30